Something Old, Something New, Something Borrowed, Something Blue. It's a poem known for its connections to wedding days. But what ideas are there for following it and weaving a special kind of personal tradition into your own special day.
Heads are full of ideas in the run up to a wedding. If there is any occasion which warrants a touch of tradition then it's this big day.
You can follow years of family traditions or break the mould and start your own. However you do it, the personal stamp on your wedding will be remembered forever.
The age-old poem which starts Something Old, Something New, has been associated with weddings for decades. It is still followed by brides today, despite the fast-paced modern world we live in.
Borne out of Lancashire in the late 1800s, the rhyme gives advice to brides. It suggests what they should take with them on their journey to meet their partner to start a life together.
When it comes to traditions, weddings still fly the flag with little touches added to an already special occasion. It's these little things that make each and every wedding a totally unique occasion.
Vows may be worded the same, hymns at church weddings may be the same. But it's the individual touches that make it a one of kind day.
Tradition
Nothing is set in stone regarding traditions. Brides will have a pretty good idea as to what they want to symbolically include way before the day arrives.
They may have keepsakes passed down from generation to generation or they may well be the first generation to start a new tradition.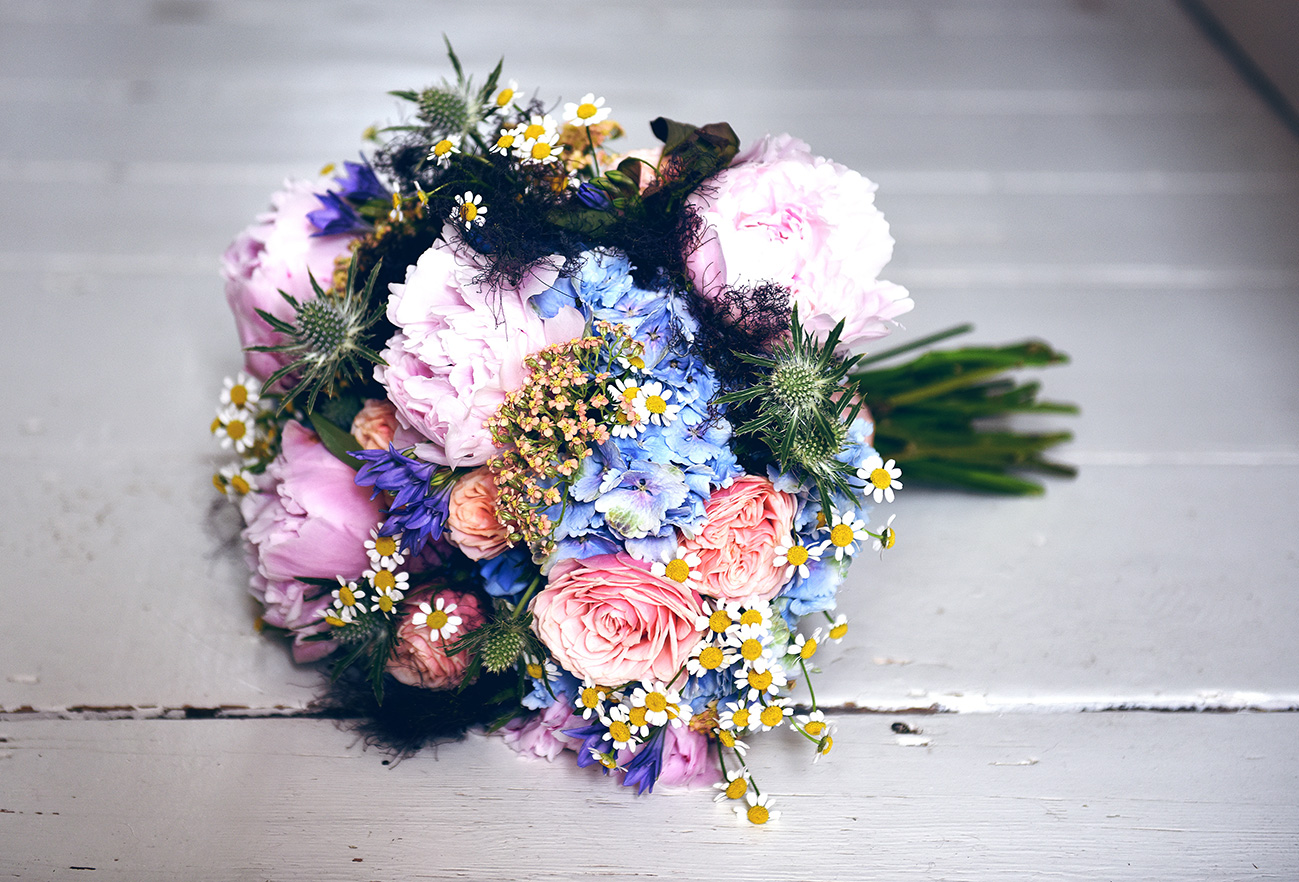 The full rhyme is as follows:
Something Old, Something New, Something Borrowed, Something New, and a silver Sixpence in her shoe.
Let's take a line at a time….
Something Old
Superstitions have been around since the dawn of time. One of the most common is the curse of the Evil Eye, a malevolent glare said to bring misfortune or injury on the one it lands on.
By borrowing something old from someone who has been blessed with a good, happy life it is the hope the new bride will carry that luck into her new life from the moment she says "I Do".
So, what should your Something Old be? One of the most popular categories of something old is jewellery.
Think back to when you were a little girl. You may have seen a special piece of jewellery your mother, or even your grandmother wore. A string of pearls, perhaps, or a pair of earrings.
Mothers may pass a piece of sentimental jewellery onto a daughter with a hope it will continue to be worn by future brides in the generations to come.
A Something Old could also be a piece from a family heirloom wedding dress, a tiny square of lace which can be stitched into the hem of the new bride's gown.
Some families pass the whole wedding dress to new brides, altered over the years for size and taste. The dress is still very much the beating heart of family weddings down the generations and linking the present to the past.
Whether it is jewellery, a handkerchief, a whole or part of a dress, the Something Old can also symbolise the spiritual presence of someone no longer living from a much-loved relative who meant a lot to the new bride.
Something New
The Something New in the poem means optimism and hope for the marriage ahead and can be an abundance of things.
It may be something as obvious at the new bridal gown but the list for Something New is endless. It may be a new gift, again of jewellery, from a bride's new husband, the new bridal shoes, the new look for the big day, or that new shade of lipstick which complements your bridal bouquet perfectly.
Something Borrowed
This can follow a similar thought process of Something Old. It symbolises the passing of luck, health and happiness from a happily married friend or family member to the new couple.
Again, like the Something Old, it can be something beautifully sentimental. Imagine holding a delicate lace handkerchief which your grandmother caressed on her wedding day. Or wearing a precious bracelet from your dearest friend.
Something Blue
In films or television shows the Something Blue is often a frilly blue garter hidden from view until a photographer takes a cheeky photograph.
The colour blue stands for love and fidelity. If a garter isn't really you, a whole spectrum of the colour blue can be incorporated in a lot of different ways.
Why not have bridesmaids in midnight blue? Or a flower girl in periwinkle blue? Maybe your faithful dog is accompanying you on your big day and would look the part with a blue satin bow around his neck.
If your wedding is going to be themed in sync with Mother Nature then some beautiful blue cornflowers in your bouquet or as part of a headdress are a perfect Something Blue.
The Sixpence
The often forgotten last piece of the rhyme is about the silver Sixpence "in her shoe".
Symbolising prosperity, the Sixpence is a small, pretty pre-decimalisation silver coin first minted in the reign of Edward VI. Fathers traditionally gave a Sixpence to their daughters.
It is a small enough coin not to be uncomfortable in a shoe. A bride can pop it in there as she breaks in her new wedding shoes at home.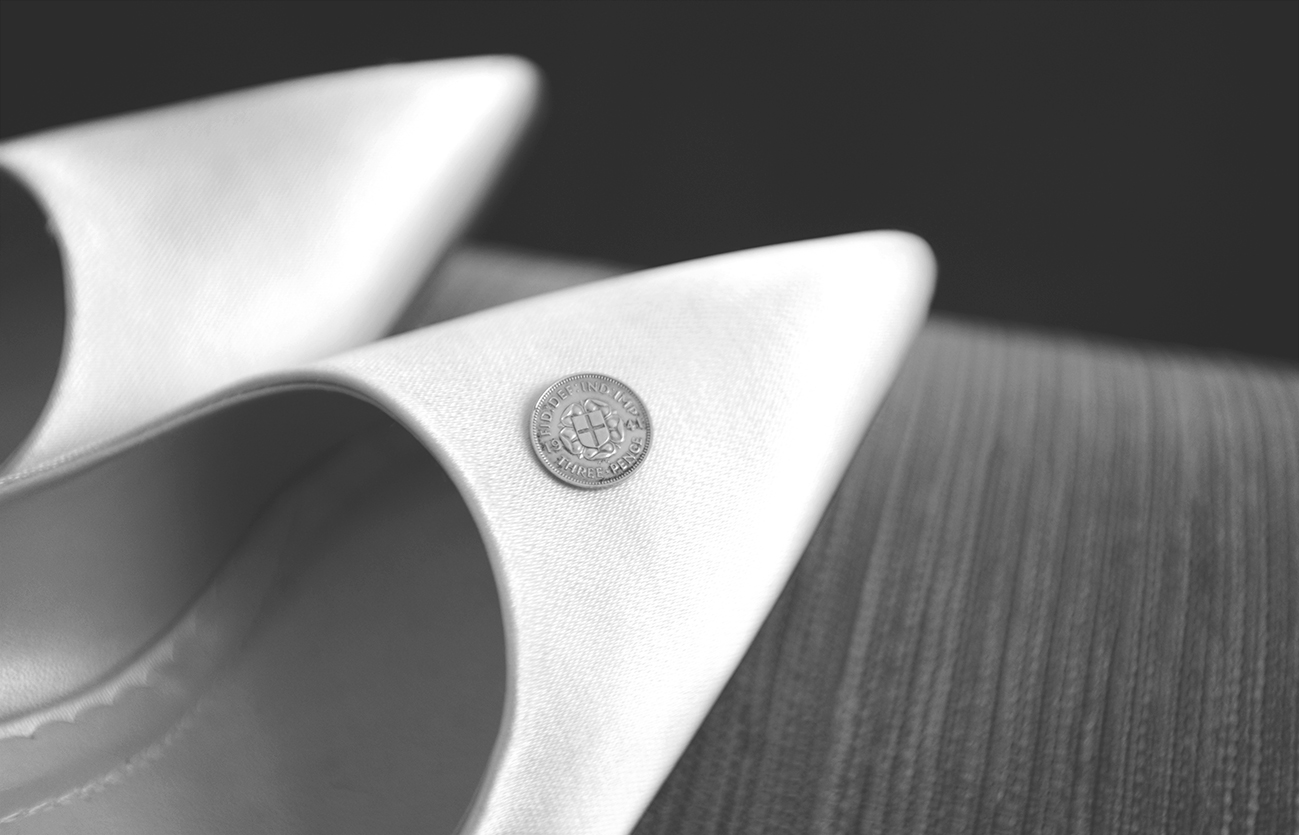 However you choose to follow this traditional poem the one thing which is certain is the fact that everything you choose will be unique to you. There are no "written in stone" rules to follow
Finally, blue wasn't just chosen because it rhymes with new.
The colour blue stands for love and fidelity, two key ingredients in any marriage.